Joined

Dec 15, 2013
Posts

1,518
Reaction score

1,536
Age

24



Hey again,
As was pointed out by previous thread, I kinda didn't invite people into beginner mechanics of switching with my last thread. It was more of a challenge thread then a How-to-start thread, so i'm making a new one.
This is my guide on what items work best for each scenario:
So let's take a look at the best possible in-game items you can wear as a whole:
For free to play, only one pair of boots has stats that are best in terms of defenses. Remember: The less you get hit, the more opportunity you have to hit your opponent.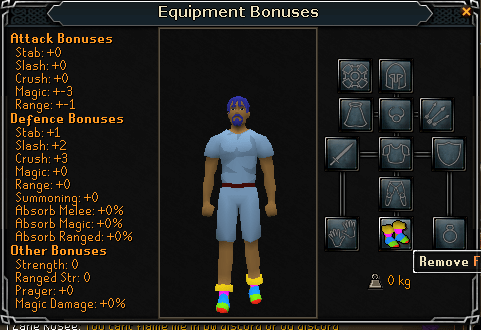 They are all negative for ranged and for magic, but keep in mind -1 at range bonus is not relevant once you hit the +80 threshold, your accuracy will still be similar.
For capes: there is actually only one cape in game that has stats on it defensive wise, and does not give any negative stats: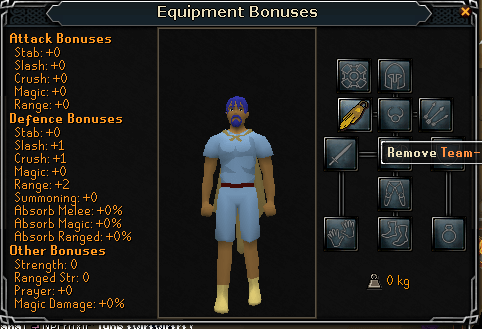 all team capes, no matter the color, have the same stats! So if you're not using cosmetic capes cause you wanna look pretty, here's one you can use that will just in general offer better stats.
Now that we've established that, let's talk about shields: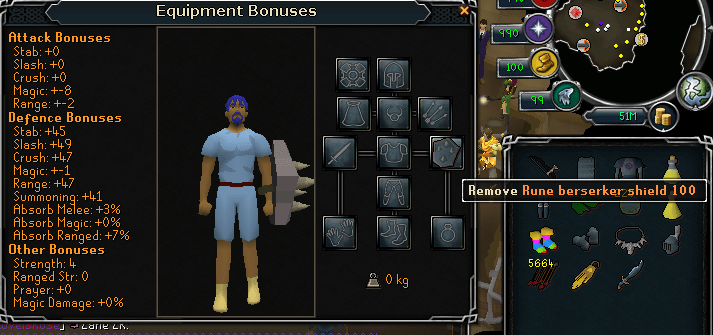 This shield is the best option for you in total. Because you will not use it while ranging, or use it while casting magic, you will wear this for the strength "other" bonuses. It also brings absorption to the table, which although low percentages, does reduce damage by atleast 1-2 in terms of how often you get hit.
There's a myth about what weapon to use when you're wearing a platebody, or a chainmail; but it's only just a mith for 1 handed weapons.
In terms of raw stats, the only time you would use a chainmail is if you are going to
A) Range
B) Getting smashed by a g2h or smash-like weapon (rune warhammer whenever it gets fixed lols)
here's the actual bonuses: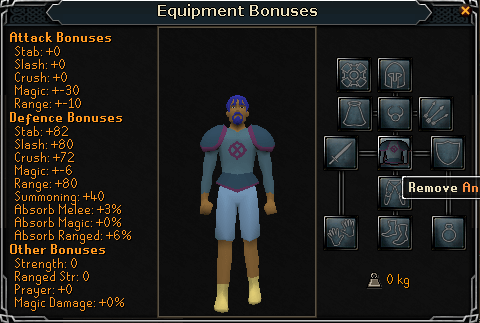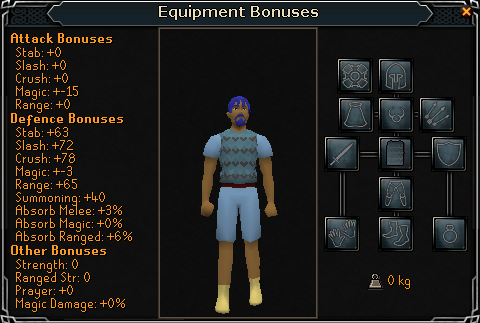 Rune chain offers a +0 attack bonus to ranged, which is perfect if you are going to switch.
You should be wearing this when you range anyway, because in general, you are using strength potions and already have boosted chances of hitting with melee attacks.
This should be your complete armor setup: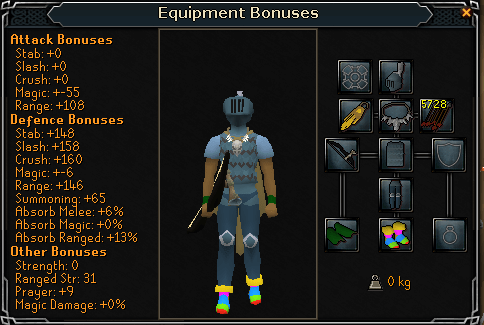 The reason you should not use platebody and gauntlets is because the following: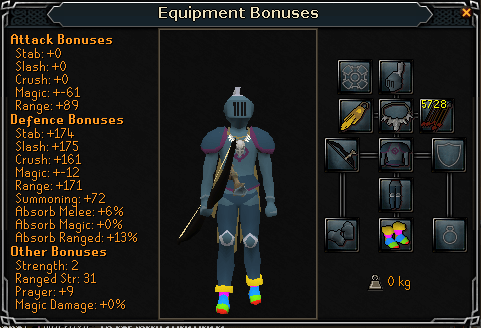 -19 to ranged accuracy is HUGE. That's almost like downgrading your arrows from adamant to mith, You can do this, just keep in mind you are missing out on opportunity to hit.
You have to decide when the tradeoff is worth it, do you think you can outlast your opponent? Have you been using prayers correctly?
This should be what your prayers should look like in these fights; "
Strongly recommend using highest draining prayers in this scenario because accuracy is much more important then consistency unlike my previous thread"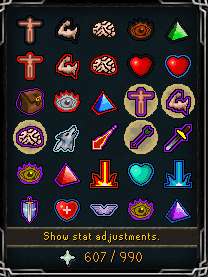 When your opponent protects from range too often, this should be your go-to setup. Its different for each person, so just remember this is what you want to use only in that scenario.
When reversed: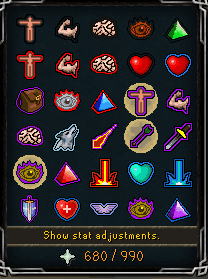 You are using strength potions, half the time you should be doing this already. A strength potion is equal to using all 15% prayers as is, you will get an increase of damage of about 4 points just being potted.
Lets talk about ticks.
When switching, melee or ranged, you can hide your weapon until it's too late for the opponent to switch it. But, if you equip and attack them too early, your opponent can see the hit. This is what that looks like:
However, if you wait until your attack finishes, the experience goes away, and you put down your weapon and attack them after, it does an instant attack. This is what that looks like:
it takes practice. when meleeing, stand atleast 1 tile away for an instant attack that is quicker then a regular attack.
When ranging, you can stand any distance of tiles away, its harder to perfect this one because animations are accounted for; but keep in mind you actually have leeway because Ranged prayers only protect from the moment the prayer is up. If you get distance between you both, your opponent may switch too early, and you will hit them for the full amount while they try to deflect a hit.
Good luck everyone!
P.S. Cosmetics are fun so, don't feel bad if you don't wear colorful boots or a teamcape lol. Everyone normally doesnt